Konversions 40K is a collaboration between Gareth Branwyn (father) and Blake Branwyn Maloof (son). We are avid gamers and modelers who wanted to "give something back" to the hobby (as they say). Gareth plays Eldar, Blake plays Dark Eldar, so we are truly a house divided. Together, we are sketching out and collecting the minis and bitz for a collaborative Adeptus Mechanicus army. We're slowly learning how not to suck at WH40K and how to stop modeling, making terrain and planning future armies long enough to actually play the game and learn the rules. We've only been playing 40K for about a year. Before we discovered 40K, we played AD&D (dad), GURPS (son), Space Opera (dad) and board wargames (dad). Between the two of us, we've also been involved in model rocketry, model railroading, hobby robots, model planes and several forms of plastic kit modeling. Blake, like any self-respecting 13 year old, is also an avid video and computer gamer and is quite the 3D artist (Animation Master). The other person behind the site is the amazing and talented John Bergin. He did most of the art for this site (Blake did a couple of the icons) and is the musician and artist behing "Music for Hammering," a downloading CD (complete with booklet and tray card) that we've put together exclusively for 40K Konversions. You can see (and hear) more of John's work at his site: Grinder Tool & Die.

Konversions 40K is also a collaboration with YOU. For this site to be successful, we need your input. Please send us 40K hobby news, links to cool models and conversions (yours or others), your painting, modeling and terrain-making tips, and articles about any aspect of 40K modeling. We're also looking for model and terrain kit reviews. We want to hear from you! Send the good stuff to Gareth at: garethb2@earthlink.net.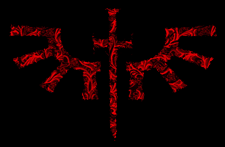 +++ How this Site Works +++
40K Konversions has five basic sections:
Conversions - A catalog of what we think are the best conversions and scratch-built models detailed online. Entries include a short description of the conversion/model, whether the model fits within official WH40K rules ("Official") or not ("House Rules"), a 1-5 "Bolt" rating for Overall Quality (of the model AND the Web page), how good the images are (if any) and how useful the step-by-step instructions are (if any). Finally, there's a "Level of Difficulty" rating that goes from Beginner to Experience to Master Modeler. Every month, we'll choose our favorite conversion/model and make it "Conversion of the Month." Winners of this contest will get a $20 gift certificate from our favorite online store Hobby Workshop.
Modeling - Tips on modeling materials, tools, techniques, etc. culled from our own experience, other 40K hobbyists, modeling books and magazines, etc. Also included is a handy chart offering expert techniques for getting realistic painting effects on your models.
Frugal Terrain Maker - Tons of tips and tricks for making sophisticated, realistic looking terrain with little more than household junk and stuff rescued from the kitchen trash bin.
Top Sites - Our favorite 40K and modeling sites, both commercial and amateur.
Misc. - A 40K glossary, a glossary of modeling terms, kit and book reviews, modeling articles and some other goodies that wouldn't fit anywhere else.
If you have a conversion or scratch-built model online that you'd like us to include here, please email it to garethb2@earthlink.net. Also please send us your modeling tips, terrain ideas, kool paint effects, etc.
+++ Advertise +++
If you have a product or service related to the game of WH40K or modeling in the 40K universe, think about advertising with us. Since we're a new site, our rates are extremely reasonable. We're also open to offering ad space in exchange for gift certificates to your store, service, etc. that we can offer to our monthly winners of modeling contests. For instance, Hobby Workshop, our first sponsor, is overing monthly gift certificates for our Conversion of the Month contest. We'd love to pursue other deals like this. We're also happy to talk about banner exchanges with other sites. Email Gareth at: garethb2@earthlink.net.
+++ Link to Us +++
If you have a 40K site, of any kind, but especially one covering terrain, modeling, coverting and painting, please contact us about a possible link exchange. We'd love to make sure that all of the 40K modeling sites are linked through ours. Please send link info to Gareth at: garethb2@earthlink.net.